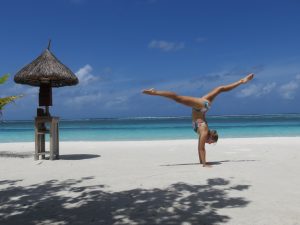 Becky started off teaching surfing before yoga. She learnt to surf while studying Biology at university in the UK, and was hooked instantly.  However, she needed something to do out of the water and that's where she found yoga. It complemented surfing perfectly and provided that same sense of calm she found from being in the water.
After practising for nearly 10 years Becky went on to gained my yoga qualification (200hrs) in India in 2015. She was very fortunate to have studied at a place that really broke down the postures and alignment. As a science teacher she is always very curious about anatomy and how the body moves with the behind each posture. To complement my yoga teaching, and to be able to help people relax deeper into the postures, in 2016 she studied Thai massage (90hrs) in Chiang Mai. Becky loves to be really hands on in all my classes to help people, not matter their level, gain the most from their session and leave feeling fully relaxed and reset.
She desires to share the benefits of yoga; she teaches private classes and sees student's development physically, mentally and emotionally.  "The first step one usually notices is physical well-being with consistent practice of yoga", Becky encourages her students to continue to find balance, concentration and be present.
She has a natural flair to connect with people and her intention is to positively influence people around through living the peace of yoga on and off the mat. Personally she loves to practice Ashtanga for the strength, mental focus and flexibly and also loves to slow things down with a deep stretching Yin class.