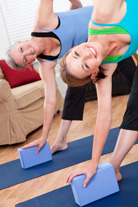 This program caters to those who require personal care and attention as they are starting out with their yoga practice. Classes will be taught by teachers trained in Iyenger Yoga and Anusara Yoga. The teacher will focus on a supported and controlled transition between poses and will correct postures using the Universal Principles of Alignment to ensure that you get the maximum benefit from your practice.
Yoga Classes for Beginners that Focuses on the Proper Posture
The program offers a step-by-step introduction to the fundamentals of yoga postures. Classes provide each student with the necessary foundations to develop a safe and beneficial yoga practice. Emphasis will be given to lengthening the spinal column and improving one's seated posture to fully support a well functioning nervous system. When poses are performed in the right way muscle toning, increased stamina and a reduction of stiffness will be experienced.
Breathing is vital to life and to every yoga class. The role of the diaphragm differs depending on the body's posture, so correct breathing will be taught for different poses to optimize the oxygenation process. Classes will conclude with a guided relaxation to allow the mind time to quiet down, thereby improving the faculty of concentration.
This program is also suitable to be conducted in a semi-private setting. If you have any friends or family who are also new to yoga, it's a great opportunity to enjoy the benefits of the practice, support each other and share your experiences.