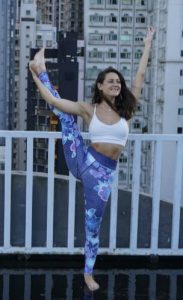 Catherine successfully completed her 200-Hour Yoga Teacher Training with internationally renowned instructors Meghan Currie with philosophy and anatomy guest teacher Oliver Reinsch in Australia. This intensive program exceeded Yoga Alliance standards and included a lot of personal development work, which lead to Catherine evolving into an authentic teacher.
Catherine's zesty, vibrant appetite for life is a pure joy to be around and learn from. She provides a genuine outgoing attitude that is upbeat and uplifting. She conducts her classes with confidence, creating a playful yet powerful class built up of smart sequencing and clear cues.  Primarily a vinyasa style teacher who is passionate about the use of breath to guide movement and usher in a meditative state, Catherine is passionate about using yoga and meditation to still the mind and combat anxiety. Dedicated to making her students feel at ease, and bring an element of fun into her classes, she seeks to encourage her students to turn inward and reconnect with their inner self, and believes yoga is an amazing thing to do for your body and mind.
She enjoys teaching a beginners approach with careful attention on alignments and correct posture. Catherine believes in a balanced class structure with a thorough warm up and deep relaxation since moving to Hong Kong has taught her that most people here carry a lot of stress around their shoulders and back.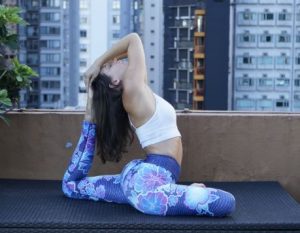 She has taught in many studios but Catherine has a passion towards private yoga classes, she thrives on the personalization and individual approach for her students, putting most emphasis on customizing the class to each individual where ever possible.
Catherine loves teaching yoga, she feels the practiced has changed her life and is inspired to help bring about that change to all her students allowing for an active yet mindful yoga journey.