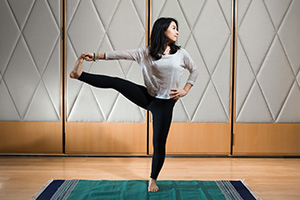 Elaine started to practice Yoga in the US when she suffered from a spinal injury in her late teens. After helping herself recover with yoga, Lyda developed a deeper understanding into yogic healing and realized that yoga is an important part of her wellness journey. Through practicing yoga poses and mindful breathing, Lyda finds stillness through body and mind connection along with bringing calm energy when she wishes to destress. As her passion for yoga grew, she decided to further her understanding of yoga by undertaking teacher training in 2014 while traveling aboard to India.

Elaine feels blessed and very grateful to have started her yoga teaching journey with a renowned former Yogaworks teacher, David Kim, studying Yin Yoga. Elaine is trained in Ashtanga, Hatha, and most recently Yin Yoga. She is an experienced meditator and believes inner peace could be brought in breath by breath.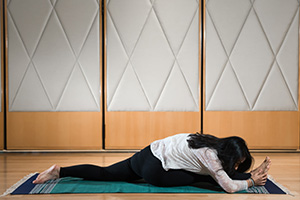 Elaine is not only a yoga instructor, but also a Reiki healer and Center for council, counselor, for non violent communication. She likes to incorporate her knowledge on human body and mindfulness movement into her yoga classes, with dynamic sequences and the Sanskrit names of poses. She will also explain how the poses affect the body and make adjustments for people of all ages, abilities and fitness levels. Always passionate, Elaine hopes that her class participants will unearth strengths in their bodies and calmness in their minds.