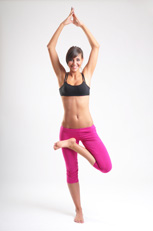 This package caters to those who have had some experience with yoga and would like their practice to accommodate their busy schedules. Classes will follow a general Hatha style which, depending on your preferences, can be structured to increase stamina, flexibility and strength. These classes are perfect for those who want to push their limits and explore more challenging poses. Synchronized breathing and relaxation techniques will be a part of each class to bring a sense of clarity and restored energy at the end of each class. Here are some class styles that we can combine to boost your fitness:
POWER YOGA: A great cardiovascular and strength building workout combined with breath work. Class combines a rhythmic flow of poses with active postures to increase physical strength and stamina. This vigorous workout helps you connect to your inner strength.
CORE YOGA: Improve your core strength with a focus on abdominals. Increased core strength will also help relieve back pain and improve your posture. Special attention is given to the core – the abdomen, back, buttocks, upper hamstrings, and hip flexors.
FLOW YOGA: A class designed to stretch your muscles, boost your energy and increase blood circulation. This is a fast-paced class, which includes a non-stop routine of balancing, standing and arching poses, drawing into a Vinyasa flow and focusing on a series of sun or moon salutations.
This program is also available in a semi-private setting. If you have any friends or family members who are also eager to focus on their fitness, they are welcome to join the sessions with you! This is a great opportunity to enjoy the benefits of the practice, support each other and share your experiences together.