Jean started his yoga journey 15 years ago as a physical exercise, like many of us. After his first visit in India his vision of yoga shifted from the physical level to a complete way of living making him realize how he was not compatible to the current system.
During the last 4 years, he embarked on a journey in different parts of India and Asia with masters specialized in various field of yoga for deepening his practice and knowledge. His journey leaded him towards different healing methods, ancient yogic practices and his own inner world.
He spent months in Ashram for deep meditation retreat, breathing practice and learning the selfless life of a yogi. The power behind the breath fascinated him. Breath is the linked between the body and mind. It allows you to deeply connect with your body and take control of your mind. Then you can become The master of your life!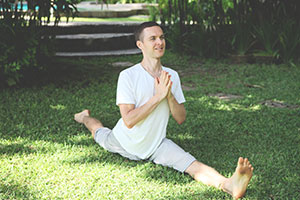 Advanced yoga Asanas, Laughter yoga, Pranayama, Yoga therapy, Kids yoga, Meditation and Mindfulness, Jean possesses a wide range of expertise in yoga to suits the needs of anybody.
Jean is also a TRE provider; It is a very powerful yet simple technic to release stress and bring back the nervous system to a state of balance. Easy to learn, it is very useful in a busy and stressful environment like Hong Kong.
He wishes to bring his knowledge and experience to demystify the meaning of yoga for the benefits of mankind. Yoga has so much to offer than only getting fit and looking good, it shows you the way to live a happy and healthy life.
Elementary teacher by profession, Jean has a passion for teaching and inspiring people to unlock their full potential. With his enthusiast and calmness, He will guide you towards an inspiring journey in search of your true nature! Whatever your level or your needs, he has the tools to bring you to the next level.