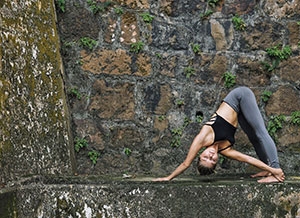 Meeting Katharina for the first time is like running into an old friend you've known for years – conversations are effortless, she's there when you need to talk, and she gives some pretty kick-ass advice. Within minutes, her quirky and playful personality energizes the room, creating a space of comfort when leading a class. Through intention, pranayama, meditation, and asana, her goal is for her students to leave each class feeling refreshed and inspired to learn more.
Growing up as a gymnast and dancer in Vancouver, B.C., Katharina soon turned to yoga and meditation to heal her body after suffering from sport-related injuries. After seven years of practice experience, Katharina decided to travel through Asia on her own personal yoga and meditation journey, where she completed her 200-hour yoga teacher training in Indonesia. Residing now in Hong Kong, Katharina leads uplifting classes that vary in style, and are sure to have you feeling sweaty, soulful, and empowered by the end of it. Don't be surprised to have her inverting the flow with a focus on advanced arm balances and inversions out of nowhere!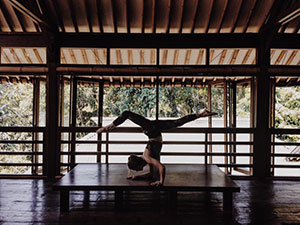 With 7 years of practice, Katharina's curiosity and passion for yoga has taken her all over the world from Asia to South America, where she soon hopes to spend significant time in Nepal and Tibet to grow her interest in Buddhism. She is always full of questions with a desire to learn every day through her own spiritual journey, self-practice, and most of all, her students.