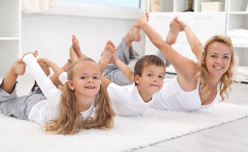 Yoga is a wonderful way to help children increase their co-ordination, self-awareness and confidence while they stretch and strengthen their bodies and imaginations. Using yoga, children can enjoy the process of learning to relax, concentrate and be gentle in a creative and fun environment. For the younger children, we teach using stories, games and animal shapes. As they grow older, they can gradually progress towards more traditional techniques.
Very Enjoyable Practices on the Benefits of Yoga for Kids
Teachers are certified in kids' yoga and have an inherent love for teaching children. The classes are fast paced and creative and last 45 minutes to cater to children's generally shorter attention spans. Children can enroll from ages 3-12 years. We believe in harnessing a sense of fun and fulfillment in these classes, so all poses and sequences are conducted in a game format to encourage children to love yoga from a tender age.
Moreover, the yoga techniques employed in this program are excellent for children with learning difficulties and special needs. The movements improve a sense of balance in the right and left side of the brain that improve motor skills, memory and emotional stability, helping them develop into well-rounded teenagers.
We encourage a semi-private setting for kids yoga as it promotes socially adaptive behavior and is an excellent means for enabling children to interact with others. Your child can enjoy the benefits of yoga with his/her friends in the comfort of your own home, making it fun and fruitful!