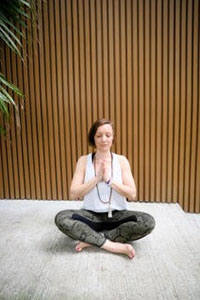 Originally from France, Mary started her yoga journey in 2012 sometime between a very demanding job as a manager in the airline industry and her 2 years old daughter. In 2014, following her expatriation to Hong Kong, yoga became an essential in her new life.
Her practice increased and she fell in love when noticing the changes happening in and around her, the comments and curiosity from others, the powerful meaning of breathing and meditation, seeing yoga as a whole… It then became obvious, she could help, help her mother suffering from fibromialgia, spread the word that yoga was for all, flexible or not ! That's when she embraced her new life and newly found career.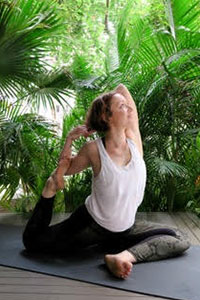 Registered Hatha Yoga Teacher since 2015, she is teaching as a volunteer for charities around Hong Kong, and in public classes in Central. She enjoys doing workshops and any healing alternatives (YogaWheel, Tibetan Bowl healing, Mantra singing). In October she will be taking a new Teacher Training led by Sarah Powers, Insight Yoga – Yin/Yang Yoga & Mindfullness Meditation, and is very happy to have the chance to deepen and enlarge her knowledge for the benefit of all.
Yoga is and will always be a time where she discovers, releases, strenghten and learns. Mary says that Yoga brings us together in union. It makes us strong and is the greatest tool we have at our disposal to fully embrace our lifes. She is glad to be here today and able to share its philosophy, her experience and learn with you along the path of happiness.