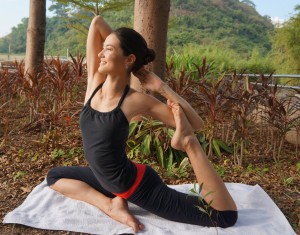 Melanie has been a student of yoga for over 10 years, and has been sharing her joy of teaching since 2011. Her journey to finding comfort in her own body through yoga was not an easy one, however. As a young teenager, Melanie experienced a rapid growth spurt that her body could not keep up with, resulting in low degree scoliosis. When years of dance training did not seem to help, Melanie took her first yoga class as an alternative form of stretch and exercise while attending university. Though difficult at first, yoga was the medium through which she discovered herself, developing keen body awareness and truly understanding the importance of balance and alignment. It was through the alignment taught in yoga that helped correct her scoliosis and strengthen both her body and mind.
Yoga had such a profound effect on both her physical and mental awareness that she decided to delve deeper and received her 250-hour teaching certification from Yoga Limbs in Hong Kong. Since then, she has continued her studies and trained with other teachers such as Jason Crandell, and has also received both a prenatal and postnatal certification from Francoise Freedman, the founder of Birthlight. She is currently working on her 500-hour certification with an Advanced Hatha Yoga training course from Yogananth Andiappan here in Hong Kong.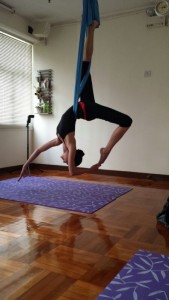 The teachings of yoga have shaped Melanie into the person and teacher she is today. Gentle and  compassionate, she creates a safe space within which her students can discover themselves and explore their infinite potential. She understands the yin and yang that is represented in all of life, and that the greatest growth happens when we are faced with challenge, and it is within that challenge where we can find ease. Teaching from a place of experience, Melanie encourages her students to be accepting and understanding of where they are in their bodies, and to embark on a journey of growth with an open heart. Yoga is a lifestyle, not simply a form of exercise, and just as each day has its nuances, so is yoga an ever changing, ever morphing practice. She invites her students to shed away the stresses and expectations of modern living and surrender to the safe, healing arms of yoga practice.