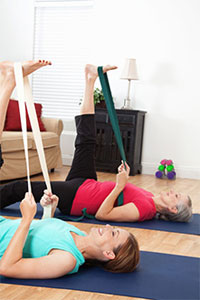 Restorative yoga is a deeply relaxing way of practicing yoga. With the use of yoga props such as belts, blocks, blankets, bolsters and chairs, you will be able to achieve the correct form of the poses without using much muscular strength or resistance. This enables the student to hold poses for a greater length of time and facilitates a deep release. Restorative yoga helps to soothe the nervous system and calm the mind. It is great for remedying jet lag, injuries and onset of colds or flu. It is also a beneficial way to practice yoga during the menstrual cycle or to help counteract the effects of a busy stressful lifestyle.
Practicing All Yoga Poses that Using a Props
Teachers are trained in Restorative yoga practices, which are designed to decrease stress levels and increase relaxation. Free and light movements coordinated with your breathing and deep stretching will help to prevent the body from transforming any stress into physical tension. Each class will close with a guided relaxation and deep breathing exercises to feel weightless in the body and centered in the
mind. The program moves into a guided meditation where the power of visualizations is embraced to reduce the constant mental chatter and physical agitation.
If you have friends or relatives who share your busy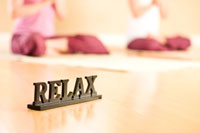 lifestyle and would benefit from some relaxation, it's a great program to be conducted in a semi-private setting. Together you can enjoy experiencing the burden of your personal stressors dissipate during the class, allowing you to feel calm and refreshed.