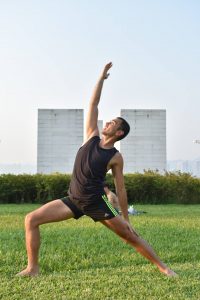 Sam is a certified yoga teacher (200hours RYT) from the Yoga Barn in Bali, where he learned that the postures of yoga are a reflection of the world around us. Sam draws a lot of inspiration from nature and the cosmos in his practice, but also the small and simple fact that everybody (and every body) is different. He therefore likes to relate yoga to the "bigger picture" of life as well as focus on body-mind-breath connection.
Sam is also a certified mindfulness coach and has done trainings for individuals and groups in and out of the corporate world. He sees mindfulness as an integral part of yoga practice, as both aim to helps us be in the present moment.
Out of the seat of the yoga teacher, Sam has experienced different professions and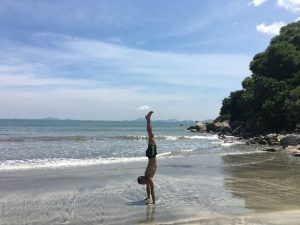 responsibilities. He believes that we learn from everything so these experiences helped him bring an interesting mix of open-mindedness, service, creativity and innovation to his practice – both as a student and a teacher. He is also an artist and nature lover!