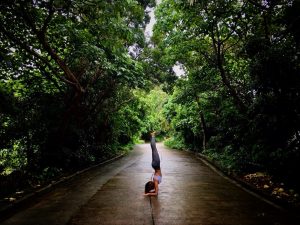 Victoire has been deeply passionnate by yoga from the very beginning of her yoga journey in 2009, practising at first as a beginner, then pregnant woman, mother and now inspired yoga teacher. She always felt that it was very good at bringing her to the present moment and giving her some time to pause, gain strengh, flexibility and to breath.
She received the teacher training from Patrick Creelman and Rhinat Pearlman, an alignment-based yoga practionners.  In order to complete her 200 hrs RYT Certification, she has decided to increase her knowledge in yin yoga by following the 100hrs Insight Yoga training from the amazing Sarah Powers.
Originally from France but lived and travelled the world, she found her true calling here in Hong Kong. She teaches hatha and yin yoga, integrating a balance between strength, flexibility and relaxation. She designs great flows specifically for people who wants to increase their flexibility and thoroughly stretch their stiff muscles.
She firmly believes that anyone can practice yoga, no matter the level of flexibility or strength. "The success of Yoga does not lie in the ability to perform postures but in how it positively changes the way we live our life and our relationships." – T.K.V Desikachar