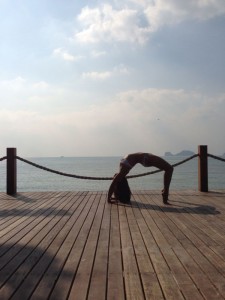 Annie registered with Yoga Alliance upon receiving her certification of 200-Hour Yoga Teacher Training with Semperviva Yoga Teacher Training College in Vancouver, Canada. To many yoga practitioners, including Annie, the end of the teacher training was only the beginning of their actual yoga journey. Annie moved back to Hong Kong, where her family resides, to continue this journey.
Previously worked in the corporate finance world in Hong Kong, Annie knew how stressful and competitive the culture is. She founded Urban Om to carry out the idea to students: to find inner peace in this hectic city through yoga practice. Annie believes taking deep breaths in moments of uncertainty and confusion, is the best cure to calm our minds.
Annie studied Yin & Meditation with Tiffany Cruikshank from Yoga Medicine earlier this year. She has been creatively mixing the element of Yin and Yang together into one practice. Further, she recently obtained professional certification to teach prenatal and postnatal yoga, creating a wide arrays of clienteles with varying needs.
Annie's teaching style is based on Hatha Yoga, focusing primarliy on alignment and breathing. She is experienced in teaching both private one-on-one students and group classes. She tailors the sequences and modifications specifically for the student's individual level and needs.
Annie loves teaching and meeting new people. She believes that everyone has their own stories to tell; her story is to serve this community and to teach everything from her heart. She wishes her enthusiasm and passion in yoga can instill a major source of positive influence to her students.