Yoga has been a part of Chloe's life since she started the yoga journey 5 years ago. Having completed the 200-Hour Hatha Yoga Teacher Training and 300-Hour Advanced Teacher Training under the guidance of Master Yogananth Andiappan who is known as a pillar of yogic wisdom, Chloe traveled to India with her Master for an intensive training on asanas and yogic therapy, a trip that absolutely transformed her life. She continued to explore the yoga scenes around the world and was trained with Nicole Walsh for Asana Alignment in Australia and has deepened her yoga and spiritual practices with Talia Sutra in Israel. Chloe is going to complete the Prenatal Yoga Training this year.
With an upbeat and cheerful personalities, Chloe aims to share her passion and knowledge of Yoga with her students; at the same time to empower them by showing that they are capable of more than they believe in a safe and injury-free way. Her teaching style is dynamic and playful yet therapeutic and rejuvenating which helps to strengthen the body, calm the mind and open the heart.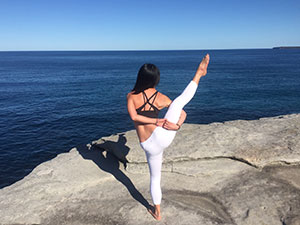 By living a yogic lifestyle in a hectic city like Hong Kong, Chloe wishes to inspire people that Yoga is not only about an hour practice on the mat but also a way to find inner peace and balance in the daily life off the mat.
She truly believes that the teacher is within ourselves and LOVE & KINDNESS are the solutions to all chaos.