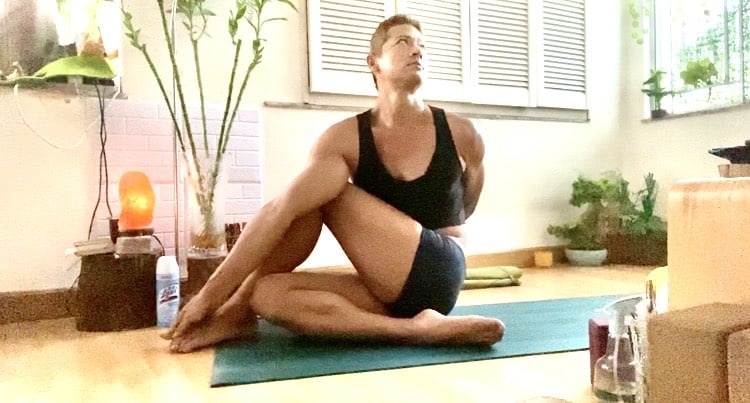 Chris started his yoga journey in 2002, at first attracted by the challenge of the physical posturess as he faced stress from his engineering degree he admired how his practice was bringing his peace on a psychological level.  He persued his yoga teacher training in 2004 with esteemed teachers in Australia and Hong Kong. His advanced hatha yoga training included philosophy, yoga therapy and marital arts methods of discipline in his practice, this developed his unique style of
 developing muscle elasticity and joint flexibility blended with traditional hatha yoga techniques to practice variety of yoga poses.
Furthering his learning he delved into
 Ashtanga Yoga vinyasa in 2005 and qualified as a specialist teacher in Thailand and Mysore, India, bringing greater strength and stability through yoga and increasing the flow of energy/prana by using ujayi breathing and other pranayama techniques. 
Along side with the practice of Ashtanga, Chris also found the studies of Pilates essential. In 2009, he studied a both Mat and Reformer Level-1 Teacher Certification with Stotts Pilates. Chris's journey of yoga practice was influenced by some joint and core alignment stabilisation from Pilates which enhanced his practicing awareness on injuries and better alignment of practice, he uses a blend of postural techniques from Iyengar Yoga and Pilates muscularskeletal biomechanics with his clients to bring great relief to 
back pain, neck and shoulder discomfort and other structural issues of the body
.
You can expect utmost professionalism from Chris' classes, his thoughtful sequences from the multiple disciplines that he is qualified in allows you to get the optimal structure for your needs, his attention to detail provides you with on the spot adjustments and alignments so you feel safe to progress with a personalized practice of yoga.