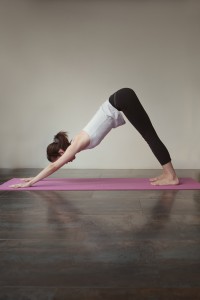 Happy New Year! To start 2013 on a healthy note, I introduce Adho Mukha Svanasana, or downward facing dog, one of my all time favorite poses. For a beginner it can be one of the most challenging poses of the practice and for an advanced practitioner this could be considered as a resting pose. Its intensity depends on each individual, when done with correct alignment downward dog combines a deep stretch while building strength.
Exciting Yoga Basic Poses that Considered as a Relaxing Pose
To set up the pose, start on your hands and knees, with your hands shoulder distance apart and your knees hip distance apart. Make sure your spread your fingers and press your hands into the mat, this will secure your foundation in the pose. Check that your wrists and shoulders are in the same line, and you knees and hips are in the same line, this ensures your back in straight and your weight is evenly distributed. Curl your toes to press into the mat and lift your knees off the floor, extend your hips up while you relax your head towards the floor.
In the final pose your body should resemble an inverted V shape, with your hands and feet being the base and your sitting bones being the highest point of the pose. Keep reminding yourself to push back with your legs, inching your heels to the floor. This will help shift your weight away from your arms and wrists and will prevent any rounding around the upper back. Hug your arms towards your ears and push down with each finger to feel the expansion around your chest and shoulders. Breathe deeply, diaphragmatically. Each inhalation focus on lengthening the spine and lifting the sitting bones and ground down with your hands and feet with each exhalation.
You should feel a stretch running down the back of your legs, from your hamstrings to your calf muscles. The more you lift your sitting bones you the more you stretch your hamstrings, and the more you push your heels to the floor the more you stretch your calf muscles. Despite this being a stretch, it requires a lot of power from your quadriceps and hip flexors to maintain the push backwards and downward on the legs and feet respectively.
Downward facing dog is a gentle inversion, as your hips are above your head. This increases the blood circulation to your nervous system, primarily to the brain. It is an excellent pose to improve posture as the spine is lengthening equally from the upper back to the lower back. It provides the benefits of a forward bend, inversion and arm balance all in one pose- giving your muscles a deep stretch and a workout at the same time. The more you practice downward facing dog, I'm sure it will become one of your favorite poses too!