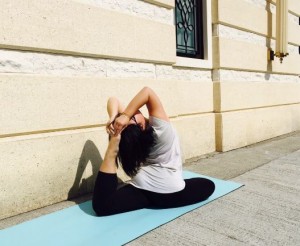 Born and raised in Hong Kong, Joey started her yoga journey at the age of 19. After graduating from the University of Hong Kong in 2012, she completed her teacher training with Patrick Creelman (RYT-200). Immediately after her training, she started teaching her friends and families. In 2013, she moved to London to complete her Master Degree. During her stay in London, she undertook a job as a part time yoga instructor. The opportunity makes her realize how yoga brings people together and forms a loving, blissful and supportive community.
As a frequent traveller, Joey enjoys learning from different teachers. Some of the teachers that she met, especially Salema Veliu , Jean Hall and Mercedes Ngoh, have inspired her a lot. Hence, her practice is a combination of Flow yoga, Dharma Yoga, Jivamukti yoga, restorative yoga and yin yoga. Joey firmly believes that everyone is their own teacher, others are just there to serve as a guide.
The style of Joey's classes is a balance of power and relaxation, yin and yang, challenge and fulfillment. Her classes focuses primarily on the foundation and alignments of asanas because good foundation allows the students to become stronger and lighter. To her, the key to yoga, and life, is to take things one step at a time, be presence and have faith. Be patient and the pose will come to you.
Joey's passions to teach yoga comes from what she gains from her practice. To her, yoga is never about touching the toes and doing the impossibles. It's a practice of life. Yoga is a journey that encourages you to embrace all the perfect imperfections. It is about letting go and being grateful. Yoga teaches is that sometimes, we have to accept what we cannot change and to see beauty in all harmony and chaos.So feel, listen, look, learn and be grateful. The real practice starts when you are off the mat, into the world. You are always your inner teacher so let your inspiration carry through to each action.