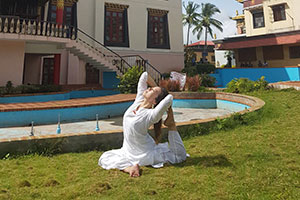 During Samantha's university years, she came into practising yoga. Yoga has proven her something way beyond physical movement. She experienced many times of emotional breakdown during deep opening poses. She strongly believes that yoga eventually leads everybody to turn their awareness inwards and embrace own inner self entirely.
After 3 years of practising yoga in Hong Kong, Samantha decides to explore a deeper meaning of yoga in life by heading to India.
There she learns from the source of yoga. She was exposed to a full yogic life, including the diet, the philosophy, the way of living, the basic Hatha yoga asana practise in Sivananda Yoga Vedanta Ashram in Madurai, southern India. She also went to practise Ashtanga Yoga from its traditional lineage in K. Pattabhi Jois Ashtanga Yoga Institute, Mysore.
Samantha practises Mysore-style Ashtanga Yoga herself, while at the same time she is able to teach different styles like Hatha Yoga, Sivananda Yoga which includes basic pranayama techniques and 12 basic postures. She volunteered to teach Tibetan monks yoga in Nepal before. With deepest gratitude to each of her teachers and Gurus, Samantha wishes to keep on spreading the awareness towards inner self through teaching and sharing the knowledge of yoga.