Anastasia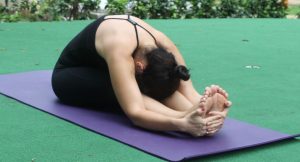 Yoga has been an amazing personal experience for Anastasia. It brings harmony and balance between the physical body and the mental faculties. Apart from being a great anti-aging physical activity, yoga helps you retain your calm and composure. It truly makes you stop, live the moment and see yourself 'here and now'. This is a must in today's stressful living in modern cities.
Yoga is a continuous process, work on improving the practice is ongoing and requires daily commitment. We are all students and teachers to each other. My main principle as an instructor is, "not to teach yoga, but to share my practices and knowledge that help you find the way to your balance." I believe that everybody are different and it's important to work with your abilities and strengths, every day come to the mat for creating a better version of yourself without looking around and feeling pressure from the group. That's why I think personal classes with the teacher are much better way of practicing.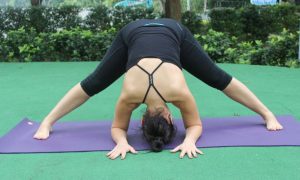 Originally coming form north of Russia, I've always been curious to know and learn about yoga and life gave me this opportunity. Yoga came into my life in 2011 in the Indian city of Hyderabad and it has forever changed my life. Started my yoga journey as pre-natal student, over couple of years became a regular practitioner of Hatha and
Vinyasa yoga. I am very fortunate to have lived in India for 4,5 years and for having the opportunity to learn the art of yoga from its sources.
As I experienced many benefits yoga gave me, I've decided that I would like to share that amazing knowledge. That's why in 2015 I have completed 200+ hours of Intensive Teacher Training at the Sharmila Yoga Zone (registered with the International Yoga Alliance) in the Hatha, Ashtanga and Iyengar methods of practical yoga, including the theoretical, anatomical and health facets of the course. I've had the pleasure to lead the practice for yoga practitioners in India and Russia. Life has now brought me and my family to Hong Kong and I will consider it a privilege to share my practice with you.