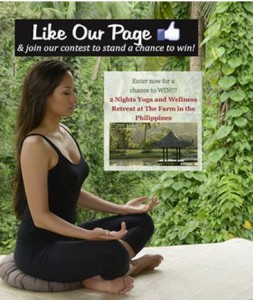 To show our gratitude to all your support we are giving away a 2 nights stay at The Farm absolutely free! To join the contest, simply like our Facebook fanpage to enter and you could win a yoga retreat of a lifetime!
The Farm at San Benito is a lush sanctuary located just south of Manila in the Philippines. Nestled beyond thick jungle and away from the madding crowds, indulge in a complete body, mind and spiritual rejuvenation as you breathe in the fresh air and bask in the peaceful, scenic surrounds.
A premiere, award winning luxury retreat, The Farm is a safe haven where you can truly "be" and allow devoted staff to work with you to improve your health and well-being. Choose from organic weight loss, heart health and stress reduction, diabetes management, environmental detox, integrative cancer care, holistic skin therapy or beauty and longevity.
Unique and holistic purification techniques will naturally detoxify and remove toxins while boosting your immunity and healing your body. With 26 international accolades in just over a decade of operation, you can trust The Farm's expert medical team to change your health, (and your life) for the better. Your individual program will be supervised by a team of preventive health care specialists (holistic doctors, yoga therapists, and living food chefs) to ensure you attain optimal health, emotional well-being and spiritual growth during your stay.