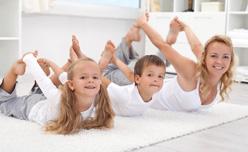 If you are looking for a fun way to introduce yoga to your children this summer, we have the perfect solution! Our kids yoga classes are fun, interactive, and inspiring, your child will learn about the yoga posture as well as learning the importance of a positive outlook! We offer private kids yoga classes hosted for 1-6 children, where the teacher comes over sparing you the hassle of coordinating pick ups and drops offs for the class! Why not gather their best friends around the building and have the kids class downstairs in the clubhouse?
Our philosophy is based on releasing the stress of performance and achievement but instead to love learning, created well rounded children with a high self confidence. When children have a passion from a young age they will naturally practice more and get better intrinsically, without the need to keep score and create judgment. All our classes are structured in a fun and dynamic way so the kids absorb the new information in a healthy and friendly environment. Our kids yoga program has been adopted in many international schools in HK and we have seen marked improvement in children with difficulties in learning, motor skill control, coordination, and socialization.
Kids yoga classes in Hong Kong help promote physical development in children. Through various yoga poses and movements, children improve their flexibility, strength, coordination, and balance. These classes provide a non-competitive space for kids to explore their bodies, enhance their motor skills, and develop a healthy relationship with physical activity.
Yoga classes help children develop a positive body image and improve self-esteem. By engaging in yoga poses and movements, children become more aware of their bodies and learn to appreciate their strengths and capabilities. Encouragement and positive reinforcement from instructors and peers in the class further boost their self-confidence.
We also cater for family yoga classes, since the kids are home this summer it's a great way for everyone to come together and cultivate genuine well being for each other. For more information please contact us on info@inspire-yoga.com or call 91673376.