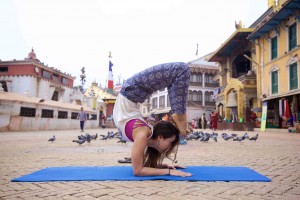 Chi Chi is a dedicated practitioner with 400 hours of teacher's training in Hatha Yoga (200 hours beginner and 200 hours advanced Hatha). Under the teaching of Yogananth Andiappan from Anahata Yoga, her teaching technique has a strong focus on the safety of students and adapting asanas based on personal limitations and capability. She has also learnt pranayama and meditation techniques in India.
Her personality is very approachable and energetic and I believe I have an uplifting spirit. She enjoys inspiring others through positive attitude towards life and practicing with good intention. Her classical approach is rooted in the core values of yoga, to bring peace to the mind and comfort to the body. She is passionate about helping people to re-connect with their bodies though movements done with attention, intention and mindfulness.
Her classes are insightful and purposeful. She pays special attention to adjusting clients in proper alignment and uses manual therapy to help relax tension in deep tissues. Chi Chi strongly believes that Yoga can benefit those who practice it on many levels: physical, emotional and intellectual. Through her Traditional Yoga teacher education she became an avid reader of classical yoga literature, a regular practitioner of meditation and awareness training and follows a Yogic lifestyle.