Everyone knows that a healthy lifestyle is not just about exercising but also about eating wholesome, nutritious foods. With so many hidden additives in packaged food, Ayurveda purports the benefits of cooking with fresh ingredients that are in season.
The act of preparing your own meals has a significant psychological benefit, reinforcing the mind and body connection and that taking the time to nourish your body is worth every minute.
Here is one of our favorite recipes, it's a balanced, nutritious and wholesome meal- not to mention delicious!
Vegetable Quinoa Soup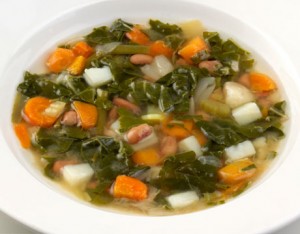 1 cup quinoa
1 cup spinach, chopped
1 carrot, chopped
1 tomato, grated
1 celery stalk, chopped
1 small onion, chopped
1 baby radish, chopped
3 cloves garlic, minced
1 tbsp minced ginger
1 tsp group cumin
1 tsp black pepper
1/4 cup fresh parsley, chopped
salt to taste
With 1 tbsp in a hot pan, add onion, ginger, garlic, salt, pepper and cumin stir until onions are translucent. Add radish, celery, carrot keep mixing until celery becomes tender. Add tomator and spinach with 2 cups water, bring to a boil. Add quinoa with 1 more cup of water and simmer for 25 minutes. Finish with mixing in parsley into the soup before serving.
Enjoy!