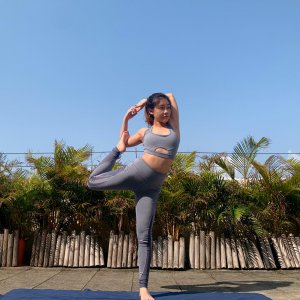 Yoga has been an amazing personal experience for Joey. It brings harmony and balance between the physical body and the mental faculties. Apart from being a great physical exercise it brought her ease and peace at a time when she was facing high levels of stress and anxiety. It truly makes you stop, live the moment and see yourself 'here and now'. This is a must in today's frenetic living in modern cities.
Yoga is a continuous process, work on improving the practice is ongoing and requires daily commitment. We are all students and teachers to each other. My main value is to recognise misalignments and imbalances that you may not notice and help to bring balance by manual adjustments and assisted stretching. I believe that everybody are different and it's important to work with your abilities and strengths, every day come to the mat for creating a better version of yourself without looking around and feeling pressure from the group. That's why I think personal classes with the teacher are much better way of practicing.
I've always been curious to know and learn about yoga and life gave me this opportunity. Yoga came into my life when I was a young student and despite being an Advanced Hatha RYT500 Instructor I continue to be a student to the practice learning and developing my skill set so I can better serve my clients through teaching.
As I experienced many benefits yoga gave me, I've decided that I would like to share that amazing knowledge. My classes are adapted depending on your needs, be it gentle or challenging, I tailor the style based on your energy and always incorporate the universal principles of alignment for safe postural adjustments and proven progress through systematic sequencing. To feel instant relief from stiffness and tension I employ techniques from yoga therapy to bring a mindfulness around the movements and breathing in each class allowing us to deepen relaxation and self healing. I will consider it a privilege to share my practice with you!