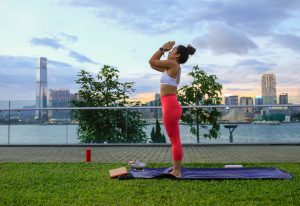 Loretta has been fascinated with different types of workout from indoor to outdoor, which led her to facilitate various classes for groups of health enthusiasts. She started her journey in yoga when she had a lower back injury that limited her range of motion. Initially, she thought that yoga wouldn't fit her; however, after quite extensive practices and exposures, it not only healed her physically but also strengthened her mental and emotional being.
In year 2017, she completed her YTT-200HR with Tiffany Cruikshank under Yoga Medicine. With 7 years working in the health care industry, now has devoted all her time fully into teaching yoga. She is a well-rounded and passionate instructor committed to sharing her knowledge as well as positivity and goodness in the world. Her teaching emphasizes the correct alignment of each yoga pose. She believes yoga is for everyone and could cater the needs of each individual by structuring classes in accordance with their body conditions and to provide modifications whenever appropriate.
By combining her multidisciplinary methods of wellbeing, she helps people discover themselves through yoga. As a teacher, she aims to further improve one's physicality and mentality holistically, believing that strength and mindfulness radiates from within.