Specialist in Hatha Yoga and Restorative Yoga
Lorraine is one of Inspire Yoga's most experienced teachers, she is an Experienced Registered Teacher by the Yoga Alliance (E-RYT 200). With more than 4,000 hours of teaching experience, comfortably tailoring her classes to suit any intensity level; from those brand new to yoga to advanced practitioners she is able to target the perfect intensity level for each individual.
Her personal practice began more than 13 years ago from her first class she was dedicated to deepening her practice as she felt that defining effect she experienced through yoga was a balancing of her energy. She continued to explore the energizing effect yoga brought to her physically whilst having a relaxing effect on her mind. She knew that this is exactly what the city needed and was one of the pioneers to host private classes in 2005, this was when yoga was only beginning to be introduced in Hong Kong. She ensures each class brings that balancing effect, bringing equilibrium between the active and passive, the yin and the yang, components of ourselves by being present to what we need in the present moment.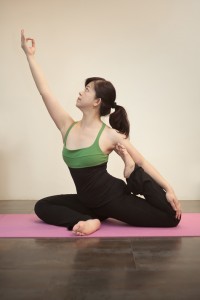 Lorraine has recently been certified as a level 2 Reiki practitioner and can use this ancient art of healing by aligning the body's energy to soothe and release chronic pain. Despite Lorraine's experience she is always humbly learning to deepen her knowledge and yoga practice, her primary objective is centered around her students and maximizing the benefit her classes can have on them, she regularly attends workshops and intensive training courses with world renowned yoga masters in different styles and techniques.
She also holds a certification in Sivananda Yoga from Yoga Siromani which focuses on the core values of yoga to structure the practice to attain a lasting sense of well being.
Her philosophy is rooted in sharing the peacefulness and self awareness that yoga brings. Through her sequences and attention to breathing patterns she makes you feel more centered in your body and calm in your mind. Lorraine teaches Yin & Yang, Power, Gentle Flow, Kids Yoga, Yoga Therapy & Restorative classes in English, Cantonese and Mandarin.