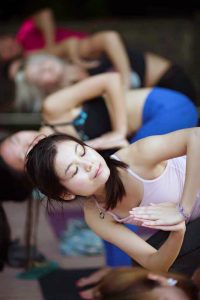 Ivy was a member of cross country team while she was doing my undergraduate degree in Psychology, she was introduced to yoga in 2011 while studying in London. It was then that she began to understand how unique yoga was in that it helped her not only strengthen and stretch, but also to calm and center her mind, body and spirit by incorporating the breath. After moving back to Hong Kong, she continued to practice and in 2015 completed a 200 hour Yoga Alliance registered teacher-training program. She have been sharing the benefits of the practice with students ever since. As a conscientious practitioner she believes in enhancing her techniques to provide the best service to all her students, attending a multitude of additional courses she completed yin yoga certificate in 2015, yoga therapy certificate in 2016, and a 500 hour Yoga Alliance registered teacher-training in 2017.
She have been practicing mindfulness with Plum Village Hong Kong Asian Institute of Applied Buddhism since 2012. she attended several retreats with the institute, which deepens my meditation practice. She has been applying traditional Buddhist mindfulness teaching to her asana and pranayama practice, and teaching.
Currently she is undergoing her masters in occupational therapy, bringing to the forefront of her classes the functional use of yoga to help with chronic tension and posture. It is a profession using a holistic approach in planning case treatment plan. Occupational therapists take into account the physical, social, psychological, sensory and cognitive abilities and needs of clients. With her solid background in anatomy and other medical knowledge she is able to delve into the mind body connection to address pain triggers and stress management.
Her teaching style includes Yin and Yang yoga, hatha yoga, power yoga, vinyasa flow and yoga therapy. Ivy enjoys designing tailor-made yoga therapy practices according to the individual's body type and lifestyle. She believes yoga is a personal journey in which one can learn how to maximize their strengths, overcome limitations, and use the breath to find peace and happiness. Yoga has truly changed Ivy's life in such a positive way that she is eager to share her knowledge with others.