A passion to provide individual restorative solutions for stress management, chronic pain, fatigue, back pain, low immunity, joint stiffness and poor sleep quality, Neelam founded Inspire Yoga.
Here we are showing you the questionnaire asked by asianentrepreneur.org
What's your story?
Previously an investment banker I had normalized being stressed all the time, years of internalized pressure left me suffering from anxiety, chronic fatigue, and acute lower back pain. Yoga and meditation changed everything for me, it helped me release the physical tension from a sedentary lifestyle and find inner peace from the constant mental chatter. I founded Inspire Yoga with a passion to help others by personalizing programs around specific requirements to maximize the benefits of the practice. Now with a team of over 20 dedicated instructors, we offer private classes and corporate wellness to provide an accessible, relevant and mindful framework of yoga.
What excites you most about your industry?
Wellness is a relatively new industry, it's exciting to contribute to cutting-edge systems to personalize wellbeing. We are challenging the status quo of health, it's not enough anymore to be free of illness, we now conscientiously optimizing health on an individual basis to take a holistic approach covering physical, emotional and mental health. Our lifestyle has changed radically in the last decade with the introduction of smartphones which has had massive implications on our health and stress levels, we are at the precipice of relearning how to live with technology to revalue the human connection and reconnect with natural healing rhythms.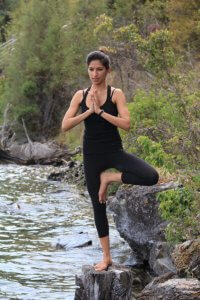 What's your connection to Asia?
My parents immigrated from India to Hong Kong 40 years ago, settling down in the former British colony for themselves, their children and grandchildren, we are 3 generations connected to our Indian heritage that call Hong Kong home. I grew up instilled with strong Asian values of family, honesty and endurance which I teach my children today, the world might be getting more globalized, but these qualities are timeless and essential for tomorrow's entrepreneurs.
Favourite city in Asia for business and why?
To me, Hong Kong is a mecca of opportunity. It's a confluence of hard work, operational efficiency and ease of funding that makes it great for business. Coming from humble beginnings my father found success in Hong Kong as an entrepreneur in the 70s, I witnessed firsthand how supportive the community is to new ventures. Local investors are openminded and forward thinking, actively looking for the next big growth story to finance. Its electric energy, the transparent judicial system, strong work ethic, low corporate tax rates and high standards of quality makes Hong Kong one of the best cities for business in Asia.
What's the best piece of advice you ever received?
I recently met Mark LeBane, a senior lecturer at Lingnan University, who gave me the courage to dream big and stand in my own truth. He empowered me to embrace my position as an industry disruptor by advocating an alternative to the 'one size fits all' approach taken by group settings and curating personalized yoga and meditation programs. He said, "focus on one key deliverable, drive your service with passion and scale it with systems". As an entrepreneur, I realized it's my greatest value to the business to set a clear authentic vision that attracts our clients, partners and staff to work together towards that shared goal.
Who inspires you?
I have been enthralled by Joe Dispenza and scientific methodology in explaining spiritual concepts of compassion, meditation and visualization using quantum physics, neurocircuitry and biochemistry. His work in anchored in technical explanations using modern technology to validate the practical application of meditation to explain how these ancient systems of healing work. He has inspired me to detail the importance of balance in our corporate wellness programs, we have seen a massive increase in engagement of the practice once there is a solid knowledge in the facts and data to prove the epigenetics of lifestyle on our health.
Read full session at https://www.asianentrepreneur.org/neelam-harjani-founder-of-inspire-yoga
email neelam@inspire-yoga.com
LinkedIn Neelam Harjani
Facebook and Instagram @inspireyogaofficial
Twitter handle – inspire_yoga_