From professional executives, pregnant mothers to aging parents, we offer a tailored solution for individuals at every stage of life. Our personalized yoga programs offer you specialist care and attention, incorporating natural self- healing techniques from yoga therapy, strength training, deep stretching, breathwork and mindfulness. Customised to address your individual needs, we provide you with exclusive expertise; a fully qualified and experienced teacher from our team will personally conduct your classes in the comfort and convenience of your own home.
Inspire Yoga has been exclusively offering one on one yoga and mindfulness classes for the last 10 years, we are highly trained and experienced in understanding individual differences and how to work together to build a practice made for you to specifically meet your goals.
If you are looking to build a healthy lifestyle but not sure how to start, if you are feeling stiff and tired and want something specifically focused on your relieving your tension, if you want to feel stronger and more agile in a way that is safely guided and tailored to your capacity, if you want to explore the calming benefits of yoga but want something more personal than a busy studio setting then we have the solution for you. Our at home classes are offered throughout Hong Kong providing you with a time-tested fuss free answer. An expert teacher will come over to you for one-on-one private yoga classes, you can even share the experience with an additional 3 friends or family members!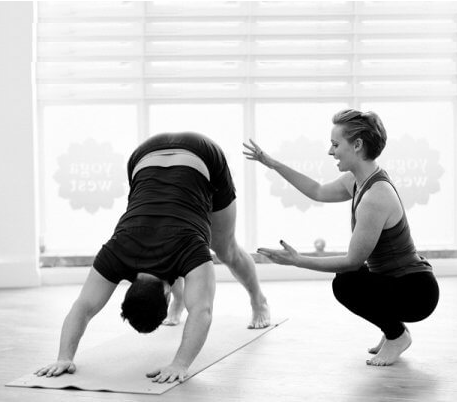 Our programs will help you
Manage stress and anxiety
Better balance and coordination
Sharper focus on concentration
Feel calmer and more peaceful
See Why Our Clients Love Us
Yoga For Beginners
Prenatal & Postnatal Yoga
Yoga For Back Pain
Enhance Flexibility With Yoga
Yoga To Reduce Stress Levels
Inspire Yoga One on One Yoga Classes at Home
Yoga For Beginners
It's not easy starting out, that's why we offer step-by-step guidance, hands-on support and personalized sequences so you gain confidence as you fast track your progress in your practice. Enjoy undivided attention from your teacher who will give you variations, alignments and adjustments to ensure each class is curated to achieve the perfect intensity for you, targeting exactly the muscles you want to stretch and strengthen. Take the guesswork out as you learn and receive specialist instructions on how to safely and smoothly move from one posture to the other. Get ready to feel stronger, calmer, fitter, more flexible and balanced!
Prenatal & Postnatal Yoga
Pregnancy can be a joyous time, however for the mother the intense transition can also cause anxiety, severe fatigue and aching joints, this program helps expecting mothers through the uncertainty and change as well as post-partum to assist in the recuperation after giving birth. Taught by teachers who have an additional qualification in prenatal and postnatal yoga focus on strengthening around the pelvic floor during pregnancy and after birth, coupled with breath awareness as a powerful method of relaxation. The prenatal program is designed to maintain fitness and strengthen the lower body to stabilize the lower back and knees to bear the extra weight while the postnatal program focuses on rebuilding the abdominal wall and developing upper body strength so the upper back and shoulders are prepared to carry your growing baby in your arms. Gift yourself this extra care and attention during this delicate time of life and feel supported to welcome your new bundle of joy!
Yoga For Back Pain
Dealing with chronic back pain can leave you feeling exhausted, restless and debilitated. This therapeutic program helps bring back your confidence in movement by relieving built up tension around the spinal column. Having experience with postural misalignments, slipped disk, cervical spondylitis, scoliosis, sciatica and spinal fusions we will help to regain your mobility in all 6 axis of spinal flexion as well as develop strength around your core belt to maintain better posture and protect the spine from constant load bearing. Expect a slow paced, detailed focus on proper alignment and diaphragmatic breathing to relieve tension around the shoulders, chest and upper spine. You will be able to stand taller, feel more relaxed and reconnect with your physical vibrancy.
Enhance Flexibility With Yoga
Sedentary lifestyles, aging, repetitive movements, heavy weightlifting all cause stiffness and tightness in the body, our muscles contract and our joints experience a compromised range of motion if we don't maintain our flexibility. As you learn how to deeply stretch in a safe and systematic manner you will feel more limber and agile, this also helps with injury prevention as we are able to break falls with minimum shock to the skeletal structure. Emphasis will be given to lengthening the spinal column and improving posture to fully support a well-functioning muscular system. Say goodbye to aches and pains as the program brings back the bounce to your step and confidence in your stride!
Yoga To Reduce Stress Levels
With our frenetic pace of life in Hong Kong it can be easy to normalize being stressed, but the effects of chronic stress takes a toll on our health, 90% of all diseases are associated to high stress levels. Meditative movements synchronized with restful breathing patterns and deep stretching will help to prevent your body from transforming any stress into physical tension. Each class will close with a guided relaxation and calming techniques to feel to reduce the constant mental chatter and physical agitation. Using restorative yoga, the program is designed to balance the nervous system and help you slow down to feel weightless in the body and centered in the mind
Inspire Yoga One on One Yoga Classes at Home
It's hard to create healthy boundaries, technology means that we can continue being switched on even after we have left the office, in fact 83% of working adults suffer from work related stress and many of us bring that home with us. This affects the quality of time we spend with the family and impedes our ability to repose at the end of the day. This program is designed to be fully catered to your needs, whether acute tension around neck and shoulders, general stiffness, restlessness or low energy we can help to create an oasis of quiet within your home. A qualified yoga teacher will conduct a soothing class that is open to your family members, along with giving yourself some much needed rest and relaxation the shared experience instills the importance of self care with your children, siblings, partner or parents.
We cater to you| We customize for you | We continue with you
Objectives of Personalized Programs
Yoga therapy techniques to release chronic tension, lengthen your spinal column, safely stretch tight muscles and improve posture
Support a well functioning nervous system and immune system
Enjoy better sleep through guided relaxations
Breath awareness for instant focus and concentration
Engage core muscles for better coordination and relief from lower back pain
Diaphragmatic breathing to unlock constriction around the chest, shoulders and neck
Gain stability and accuracy to safely flow through sequences
Enhance integrity of hip and knee joints through and improved range of motion and muscular engagement
Learn mindful meditations to balance energy and overwrite stress responses
Is It really One on one?
Yes, you have the full and undivided attention from your yoga teacher for the entire hour, whether you want to work on your backbends or become more conscious of your breathing patterns, we can help you through it. We will make small adjustments and alignments based on our observation on how you are doing to amplify the benefits of each class. All classes are held live in person where an experienced teacher comes over to you to conduct the class in the comfort of your own home.
Do I get the same yoga teacher each time?
Our whole team is here for you, with one teacher guiding you through each class you have the option of continuing with the same teacher or enjoy the benefit of trying our different teaching styles if you would like to mix and match yoga instructors,
When are there classes available?
Classes are available for most time zones, let us know what times suit your schedule and we will do our best to accommodate to your convenience.
What equipment would I need?
All you will need for your class is a yoga mat and a device with a camera (laptop, tablet, phone) so we can guide your class and keep a trained eye on your alignments to ensure your postures are safe and accurate.
What are we going to focus on?
We have a range of programs on offer, from boosting energy to deep relaxation, the focus on each class is you. Let us know how you are feeling, if you have any areas of tension or stiffness you'd like to work through, any injuries we should be careful of, any objectives of strength building, balance or fitness you would like us to support you with, each class is fully personalized to your needs and goals.
YOGA FOR THE MIND: RELEASING STRESS
When we are caught up with life we find ourselves either stuck worrying about the future or regretting events from the past, the essence of yoga is to train your mind to find its center back in the present. It is only in the present moment that we can feel empowered, we cannot change what happened yesterday or what will happen tomorrow, but in the now we are in control, it is in the present moment where we can choose to drop stress and anxiety and access a reservoir of peace and tranquility. When you are fully relaxed your body can enter growth and repair mode which has been proven to strengthen your nervous system. You will be guided by experts in meditation to switch off and restore, being more aware of your body, breath and energy the rumination of the mind will cease as you enjoy an inner silence. We use a system of awareness to first release the tension in the body, then heighten your energy by breathing techniques and finally bring consciousness to the mind by allowing it stillness.
YOGA FOR THE BODY: OPTIMAL FUNCTIONING
This time has been a wake up call to look after our bodies and our health. We are suffering from a lot of chronic tension due to lifestyle choices, we have the opportunity now to redefine our own lifestyle and make positive changes for a stronger tomorrow. The yoga practice is a balance between strength and flexibility, letting go of the tightness and weakness. We work with the large foundational muscle groups to ensure that your skeletal system does not get overburdened, a big emphasis in on proper posture which means increasing strength and agility around the shoulders, spinal column, core belt, glutes and legs. When we are in the right alignment our body's systems work much more efficiently, our breath is deeper, our digestion is more complete, our blood circulation improves. With our body's systems being more effective the repair and growth function is strengthened; more energy can be devoted to protecting and defending our health- you will feel a boost in your own immune function.
Download Inspire Yoga's Award Winning Book
Secrets to Live Stress Free
Learn 5 Life Transforming Techniques to Release Tension